Skip to Content
Marblehead Collision, LLC
Limited Warranty
Marblehead Collision provides a Limited Warranty on work performed during the repair. This Limited Warranty is valid for as long as you own the vehicle stated herein, and is the person to whom this Limited Warranty is granted and whose name appears herein and on the original work order. This is a labor-only, fragmented four-part Limited Warranty, and stipulations pertaining to each fragmented part are stated hereafter.
Painting, Stripes & Decals
A lifetime limited warranty is provided for all painting-related priming and painting work against solvent blistering, peeling, hazing, and excessive loss of pigmentation and a one-year limited warranty on the application and adhesion of decorative stripes and decals, excluding defects which are caused by extreme environmental conditions. The shop will re-prime, repaint, re-stripe or re-decal the specific areas warranted. Paint Warranty is valid only over OEM parts or metalwork performed by Marblehead Collision. Rust repairs are excluded.
Section 1-4
Marblehead Collision will repair, repaint or replace solely at its option any items in section 1-4, when the claim is made while the present owner stated herein owns the vehicle unless caused or damaged resulting from unreasonable use, maintenance, or care of the vehicle. This written warranty will be null & void if the repairs are altered, adjusted, or tampered with by any person not authorized by Marblehead Collision. This warranty is not transferable.
Metalwork
A lifetime limited warranty is provided for all metalwork, to include welding and the application of materials utilized in making repairs against cracking, flaking or deterioration, excluding rust repairs. Marblehead Collision will repair and repaint, excluding rust repairs, any metal that is warranted.
Mechanical Repairs
A 90-Day limited warranty is provided for mechanical repairs pertaining directly to the original collision damage.
Parts
90-Day limited warranty is provided for parts unless Mfg. warranty is less or more, on new parts installed by or at the body shop. Warranty does not exceed the Mfg. warranty.
Specifically Excluded
Incidental cost such as towing fees, car rental charges, travel expenses, or assemblies and components which are not specifically covered by this limited warranty, nor are consequential damages such as damage to other assemblies and components resulting from a defective part or installation of such part installed or repaired during the repair.
Rust, surface rust or damage caused by rusting of interior or exterior panels is not covered. All the limited warranties made by Marblehead Collision and contains the only promises for which it will be responsible.
Chipping or Pitting of repainted surfaces caused by stone debris or other objects.
Any damage to repainted surfaces that is caused by environmental or industrial fall out, such as acid rain, bird droppings, tree sap, etc
Any damage to repaired surfaces resulting from vandalism, fire or theft.
Any damage to repaired areas resulting from excessive buildup of ice or snow. Damage occurring from snow removal.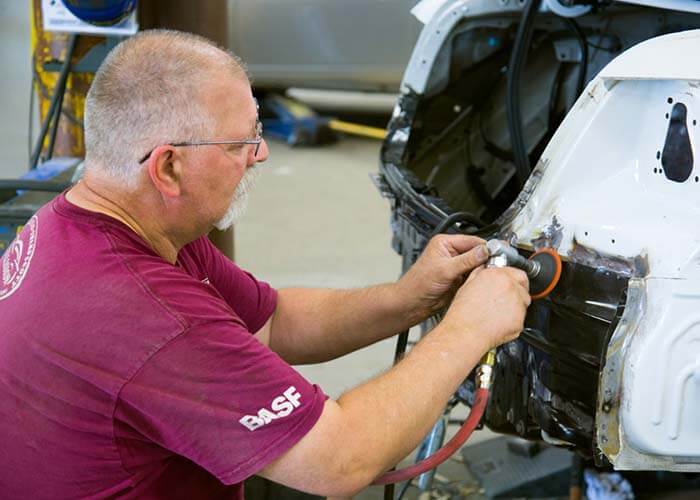 Customer's Obligation
In order to obtain the benefits of this Warranty, the owner shall present a copy of this Warranty before requesting repairs or parts. Have warranted repair, adjustment, or inspection made only at Marblehead Collision during normal business hours.
All Warranties implied by law, including the warranties of merchant-ability and fitness for a particular purpose, are hereby limited to the warranty period herein and shall expire at the end of such period. No other Warranties apply either expressed or implied.
Contact Marblehead Collision for More Warranty Information
If you need more information or guidance into Marblehead Collision's Warranty, don't hesitate to reach out to us. Our friendly, knowledgeable staff will walk you through everything to ensure you understand all you're entitled to before we complete any service on your vehicle. Contact us today to schedule your auto collision service.
Complete Collision Repairs You Can Count On